ABOUT ME & WHAT I CAN DO FOR YOU
Different amongst equals
I can help turn your ideas into reality by providing you with diverse creative solutions using years of professional knowledge and experience, and delivering a high quality service that will enhance your business image, products and services.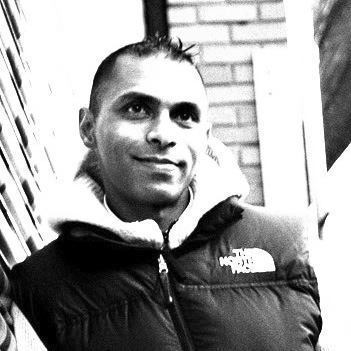 That's me up there. And little facts about me down here.
Is not a typical Capricorn
Is very laid back, almost horizontal at times
Is very friendly but shy at times
Is very observant and patient
Love the colour orange
Love Alfa Romeo cars
Love Nando's & Jack Daniel's
Love music - Listening & playing
Don't like Marmite - Blaaah!
Don't tolerate bad manners
Don't watch soaps or football
Has a good sense of humour
Has very quick reflexes
Has elite training in self defence/protection
Chatted up and sat with Natalie Imbruglia all night in Riki Tiks because no-one else would :)
Once dressed up as Mr Blobby on a Pop Stars night and no-one knew it was me until much later in the evening
So... Who Am I?
I'm an independent graphic designer and web designer based on the outskirts of Wolverhampton and Shropshire with 20 years of professional experience, working for businesses and individuals mainly throughout Birmingham, Wolverhampton, parts of Shropshire and London.
My skillset has been constantly tested and developed throughout my whole career together with learning about how businesses work which in turn gives me a better understanding of what a client wants and what a client needs and not just be a designer who follows a given brief. I like to know about the nuts and bolts which helps me to create effective, functional design that works.
Having been at the forefront of running a studio/agency, I get asked by a lot people "why should I work with you and not an agency". Simple answer, "Being a studio/agency doesn't mean you are good or even better than any other designer out there". The only real difference is cost. However, lower costs do not mean low quality output, not from me or from any of my colleagues/collaborations.
I always aim to build a solid, transparent relationship with everyone who I work with and having direct communication (client and designer/developer) is the key to a fun, productive and successful outcome for all.
Throughout my whole working career I have been very lucky and fortunate to work for global companies like Sony / Codemasters, Virgin, Monster, Budweiser, Goodyear and Shell, together with meeting and working with some very successful and influential people like Richard Branson, Neville Brody, ATTIK and Erik Spiekermann. All of which have given me real world knowledge and experience, insight and foresight into being a strong contender within a very competitive industry.
My full work history can be viewed on LinkedIn.
What I Can Do For You
Create 100% bespoke branding, and logo designs (no stock art)
Packaging design, Retail graphics and design. 2D/3D Design and Visualisation.
I deliver a very high calibre of work which competes with most studios/agencies.
Bespoke front end web site design for both desktop and mobile devices.
Print Design: Brochures, Exhibition Graphics, Stationery, Folders, Vehicle Signage, Flyers, Posters etc.
I collaborate with individuals (web developers, animators etc) when required.
What I Wont Do For You
Take on low budget projects (ie. Produce a £50 logo).
Free ideas/concepts before you decide commit 100%.
Copy or reproduce 'similar' works.
Compete on quotes from students, elance, odesk or family members.